Today, we went to London. We do that sometimes. As often as we can 🙂 One of the things we focus most of London trips around is food (and drink). There are so many different kinds of amazing places to eat in London, and even though we've hardly scratched the surface yet, we've already found some favourites that we keep returning to.
One such is
Otto Pizza
in Notting Hill. It's Britain's first (and as far as I know still only) cornmeal pizza place, started by two guys after they discovered this amazing food on a trip in Oregon. The pizzas are like nothing I've ever tried before. The toppings are amazing and the crust is crunchy and tasty. We had this pizza: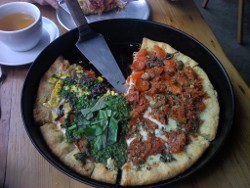 It's the "taster" and includes a selection of six different slices of amazing pizza. If I remember correctly they were: A special salami-meat one (on the plates already), which was lovely and spicy and very tasty, Pepperoni, Sausage, Four Cheese, Pesto and Sweet corn… It wouldn't be easy (or fair) to pick a favourite, as they were all simply amazing. The specials sounded tempting too, but it seemed this way we got most different tastes of heaven 🙂
To make it all perfect, they also normally serve very nice beer. Today the specials were Flying Dog from Maryland's "Snake Dog IPA" and The Kernel from London's "IPA Citra". It was difficult to choose, so I'm very glad that I didn't and just had both 🙂 (one at a time, of course)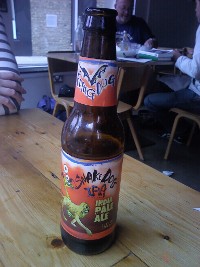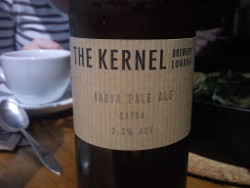 We also went to one of our favourite chocolate shops, but it's late now, so that story will have to wait 🙂
Good night!